By Hungry Bark | June 25, 2020
Pumpkin gets a lot of love for a few months out of the year, but we think it should be a part of our lives all year round! Pumpkin is a wonderful superfood packed with ample amounts of vitamins, minerals, and nutrients. Yes, it's a nutritious superfood for humans, but can our dogs also benefit from adding this ingredient to their mealtime routine?
Is Pumpkin Good for Dogs?
Pumpkin is loaded with nutritional benefits and is generally very safe for dogs.
There are a few important things to note, however:
Raw pumpkin is too difficult for dogs to digest. When giving your dog pumpkin, be sure that it is cooked.

Do not use pumpkin pie filling. Canned pie filling contains multiple other ingredients that may be harmful to your dog.
If you follow these simple rules, feeding pumpkin to your dog is incredibly easy and beneficial. Pumpkin can provide your dogs with health-nurturing compounds like:
Fiber

Vitamins A, C, and E

Antioxidants

Lutein

Calcium

Iron
With these beneficial components, it's no wonder that pumpkin is the star superfood that it is!
Benefits of Pumpkin for Dogs
Pumpkin is made up of a lot of plant mass, like most vegetables, and that means it's high in fiber. Fiber's benefits are two-fold. It helps to keep your pet fuller for longer and also keeps your dog's digestive system regular. With the addition of fiber in your pet's diet, you help to promote a healthy digestive tract and a healthy weight.
Vitamins and antioxidants are also found within pumpkin. Vitamin A helps with vision and immune support. Vitamin C aids with collagen production and immune function. Finally, Vitamin E and antioxidants help to eliminate cancer-causing free radicals that can build up in the body.
Some of the other star ingredients are calcium, which we know supports bone growth and development, and iron, which replenishes your dog's blood. A lesser known compound, lutein, boosts immune response in dogs.
Pumpkin for Diarrhea in Dogs
Many pet parents swear by using pumpkin to help treat diarrhea. This is because of pumpkin's high fiber content, which helps to absorb some of the excess liquid in the digestive tract and firm up the stool. This makes pumpkin a great treatment for diarrhea.
Pumpkin for Dogs with Constipation
While it may seem counterintuitive, just as pumpkin can help to slow down the bowel movements of a dog with diarrhea, it can help to speed up the bowel movements of a dog with constipation. The high fiber content in pumpkin helps to firm up the stool and lubricate the digestive tract.
How Much Pumpkin To Give My Dog
With pumpkin, a little bit goes a long way. The general recommendation is between 1 teaspoon and 2 tablespoons of pumpkin per day depending on the size and weight of your dog. Always consult your veterinarian about incorporating pumpkin into your pet's diet, recommended dosages, and for treatment of diarrhea and constipation.
If you want to take the guesswork out of feeding pumpkin, we offer several products that feature this superfood ingredient. To promote healthy digestion, all Hungry Bark kibble recipes include pumpkin. Additionally, Hungry Bark's Balanced Belly Probiotic Supplement and Whole Health Multivitamin Supplement feature pumpkin and all of its benefits because, after all, a balanced gut = a happy strut!
---
---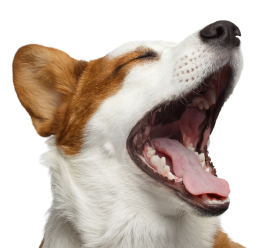 Digging for more help?
Let's get in touch.