Healthy Dog Food Toppings
By Hungry Bark | October 20, 2020
Good dog food is nutrient dense and meets all of your dogs needs. That doesn't mean it can't use a little fancying up every once in a while. If you have a picky dog, a dog on a diet, or a dog that could use some extra protein, consider adding a healthy dog food topping to their meals.
There are certainly things you may have at home already that will add flavor and nutrition to your dog's bowl. As always, before introducing something new or adding toppings to your dog's food, make sure it is something that dogs can eat. There are fruits and vegetables out there that can be toxic to dogs. If you aren't sure about the food, call your vet first. But don't worry; if you want an easy, premixed solution, we've also got a suggestion for you!
Superfoods are all the rage and for good reason! These little powerhouses are generally plat based foods that are known to have amazing health benefits and are extremely nutrient dense. Some examples of stellar superfoods are spinach, blueberries, and pumpkin.
Superfoods can provide the same health benefits to dogs that they do to people. Antioxidants, anti-inflammatory properties, immune support, and nutrient absorption are just a few of the benefits provided by superfoods.
Other benefits include
Better breath

More energy

Healthy joints

Cardiac support

Healthy skin and coat

Digestive support
Superfoods make for the perfect mealtime addition for your pup. Their health benefits and tastiness are a win-win solution. You can give superfoods to your dog as healthy, low calorie treats, or mix them into your dog's food to make dinner time all the more exciting.
Healthy Dog Food Toppings
Wanting to treat your dog to something special? These are all things that can be added to your dog's food to add extra flavor and extra health benefits.
Be careful when adding new ingredients. Allergies are uncommon, but some dogs may have reactions. Watch carefully for any reactions. Introduce new foods slowly to prevent stomach upset. An upset stomach doesn't necessarily mean they're allergic as some dogs will react that way to any change in food.
Blueberries - Blueberries aren't just delicious! They're also filled with antioxidants, fiber, and essential vitamins.
Spinach - Filled with iron and vitamin K, spinach is a great addition to your dog's food.
Pumpkin - Filled with fiber, potassium, vitamin E, and iron, pumpkin can help with digestion, prevent obesity, and aid in heart health. Mix some pureed, canned pumpkin or lightly steamed fresh pumpkin to your dog's food.
Carrots - Filled with beta-carotene for eye health and good for the skin and coat, a sprinkle of shredded carrots on your dog's food adds fiber and aids in digestion.
Beets - Full of folate, manganese, fiber, and potassium, beets are bursting with health benefits.
Fish/Fish Oil - Fish is filled with Omega 3 fatty acids that support the immune system, help maintain brain function, and keep skin and coats healthy. Add a small portion of cooked fish to your dog's food, or mix in some fish oil.
Sweet Potatoes - Filled with beta-carotene and even more antioxidants than blueberries, sweet potatoes are great for the immune system and the heart. Diced, cooked sweet potatoes in your dog's food makes for a tasty and healthy addition.
Seaweed - Dried seaweed is full of protein, zinc, copper, and vitamins C, E, and B. Seaweed also helps with fat metabolism. Plus, there is some evidence that it helps boost the body's anti-tumor response! Crumble some in your dog's food and mix it in for an extra kick.
Apples - A chopped, cored apple in your dog's food is full of fiber and can help keep their breath fresh.
Eggs - Eggs add extra protein to your dog's food. They are full of amino acids and are good for the eyes and brain. To avoid possible salmonella contamination, be sure to only give your dog cooked eggs.
Lentils - Filled with fiber and helpful for helping maintain a healthy weight, lentils are an easy addition to your dogs food.
Ginger - If your dog has a sensitive stomach, adding a little peeled minced ginger to their food could help settle their stomach. Ginger not only aids in digestion and soothes upset stomachs, it also has anti-inflammatory properties that could help with symptoms of arthritis in your dog.
Easy Superfoods For Your Dog
If you want your dog to benefit even more from the magic of superfoods, look for a food that already contains superfood ingredients! Hungry Bark recipes are made with superfood ingredients! Spinach, blueberries, carrots, flaxseed, kelp, ginger, and other superfoods are included in these recipes. All recipes also contain probiotics to further aid digestion and keep the gut biome healthy.
Another great way to add the benefits of superfoods to your dog's bowl is through toppers. Hungry Bark Protein Mix-Ins are the perfect topping for any meal. These are a great way to add a healthy dose of nutrients to your dog's mealtime without stressing about the safety of a certain ingredient in your fridge. These delicious morsels are packed with high-quality protein, and that's it! For those that have a high activity dog, a picky eater, or a dog who needs to gain weight, Protein Mix-ins are an absolute must. They add a burst of flavor to your dog's food while giving them the protein boost they need.
Dogs have more intricate tastebuds than we think. Adding a change of flavor or texture to your dog's food through the addition of healthy, superfood toppings will expand your dog's palette, and make mealtimes more interesting.
---
---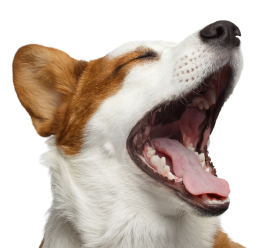 Digging for more help?
Let's get in touch.