Is Fish Oil Good For Dogs?
By Hungry Bark | July 21, 2020
Fish oil is all the rage, but it may seem like a strange supplement to those who have not used it. What is fish oil, and why use it? Fish oil is oil derived from pressing or processing fish. Fish are naturally very oily creatures, and those oils can contain surprising amounts of nutritional goodness. Health conscious humans have been supplementing their diets with fish oil for decades, but is fish oil good for dogs?
What Are The Benefits of Fish Oil For Dogs?
Just like humans, dogs can benefit from the omega-3 fatty acids found within fish oil. Omega-3 fatty acids are essential building blocks for cells. Since omega-3 acids aren't produced naturally within the body, finding a good dietary source is essential. Fatty acids can help contribute to healthy skin, coat, and nails and improve overall health and wellbeing.

In addition to the omega-3 fatty acids found in fish oil, there are also a significant quantity of anti-inflammatory compounds such as EPA, DHA, and prostaglandins. These nutrients reduce inflammation which is good for the entire body but are particularly beneficial for those suffering from allergies, kidney disease, arthritis, or heart disease. Additionally, research suggests that fish oil may contribute to the inhibition of tumor growth due to its ability to slow down cell proliferation.
Are There Any Side Effects of Fish Oil For Dogs?
If you are following the dosage instructions and purchasing quality fish oil, there are little to no side effects of fish oil for dogs. For some dogs, however, it is important to keep in mind that omega-3 fatty acids can lower blood pressure and should not be taken in combination with other blood thinners such as aspirin.
As with adding anything new to your dog's diet, if you happen to give your dog too much fish oil or administer it to them too quickly, it is possible they could develop diarrhea or digestive upset. It's always best to consult with your veterinarian before changing your dog's regimen.
What is The Proper Fish Oil Dosage For Dogs?
There are many fish oil products out there with varying sources and potency to consider. In general, to figure out how much fish oil to administer your dog, Canine Arthritis "typically recommends about 100 mg/kg. Your dog's maximum daily dose is 310(kg)¾".
Calculating the appropriate amount of fish oil to administer your dog can be a big hassle. That's why we've included this superfood ingredient in several of our products including all Hungry Bark Superfood Kibble recipes. If you're looking for a superfood supplement that contains fish oil, Hungry Bark has quite a few to choose from. Pick the supplement that serves your dog's needs best!
---
---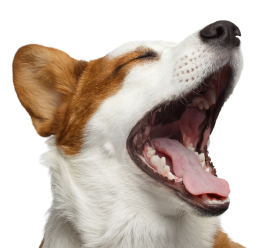 Digging for more help?
Let's get in touch.