By Hungry Bark | June 15, 2020
Spinach is an excellent source of vitamins A, K, and C. It's also packed with iron and antioxidants, chock full of fiber, and has anti-inflammatory properties. We know it's an excellent part of a human diet. It's great for your hair, teeth, and bones, and the fiber helps keep your gut healthy and moving smoothly.
It's a superfood for people, but is spinach a superfood for dogs? There are many foods that are healthy for us but actually pose a danger to our dogs. Grapes, onions, and macadamia nuts are foods we would never think of as being dangerous, but they are toxic to dogs.
So what about spinach? Is it a dog-safe green, or is it something that should be avoided?
Yes, dogs can eat spinach. Spinach provides the same powerhouse nutrients to our dogs. While spinach shouldn't be your dogs' entire meal, adding spinach leaves to your dog's food helps provide extra vitamins and fiber. The extra fiber helps your dog feel full, and for dogs that are on a lower calorie diet, spinach is a good vegetable to add to their food to keep them feeling satisfied in between meals.
It's important to note that if you have a dog with kidney problems, you should consult your veterinarian before giving them whole spinach. Oxalate, a chemical in spinach, binds to calcium and can cause a strain on the kidneys. In a healthy dog, it would take at least their weight in spinach in one sitting for there to be a problem. For dogs whose kidneys may be strained, it can pose more of a risk.
Your dog doesn't need much spinach to get its amazing health benefits. Adding 1-3 tablespoons of chopped spinach to their food boosts the fiber content and gives their food a huge nutrient boost. You can gently steam the spinach before adding it to your dog's food. This makes it easier for them to digest while still retaining all the nutrients.
Spinach Dog Treats you Can Make at Home
These spinach apple and carrot dog treats from Petful are nutritious and easy to make.
All you need is:
4 cups of chickpea flour

½ cored apple

2 eggs

½ cup baby carrots

1 1/2 cups of fresh spinach

¼ cup of water

1 tsp olive oil
Preheat your oven to 350 degrees. In a mixing bowl, combine oil, flour, and eggs. Puree the spinach, carrots, apple, and water. You can use a blender or a food processor. Mix the pureed veggies with the flour mixture until combined. Bake for 15 minutes until the edges turn golden brown.
Wiggle Worthy developed these fun pumpkin and spinach treats, which combine two healthy ingredients into a treat that's great for fall.
You will need:
1 cup whole wheat flour

½ cup pumpkin puree (or canned pumpkin)

½ cup baby spinach, chopped

2 eggs

½ tsp wheat germ

¼ tsp pink Himalayan salt

1 tbsp parsley
Preheat the oven to 350 degrees. Line a baking sheet with parchment paper. Mix flour and salt. Mix parsley into the spinach. Mix parsley, spinach, pumpkin, and eggs together. Mix in wheat germ. Add in flour a little at a time to make sure everything is incorporated well. Use a rolling pin to roll dough between sheets of waxed paper. Roll until it is about ¼ inch thick all around. Use a cookie cutter, knife, or the rim of a glass to cut into shapes. Bake for 30-35 minutes. These can be stored in an airtight container for up to 7 days, or you can chill them in the refrigerator for up to 10 days.
The Popeyes Paw treats from Sarcastic Dog are more time consuming but fun for people who like a challenge! If you have a dog that does not handle dairy well, you will want to omit the cheese from this recipe.
You will need:
⅔ cup of garbanzo bean flour

⅔ cup coconut flour

1 tsp baking soda

1 cup frozen spinach, defrost it slightly and squeeze out the moisture

2 eggs lightly beaten

¼ cup melted coconut oil

2 slices cheddar cheese

Coconut oil spray

Silicon pastry mold
Heat oven to 350 degrees. Mix garbanzo flour and coconut flour with baking soda in a mixing bowl. In a separate bowl, mix spinach and melted coconut oil with eggs. Mix together spinach mixture and dry ingredients. Then add cheese.
Spray pastry mold with coconut oil spray, and add spinach mixture. Press in and bake for around 20 minutes.
If you want your dogs to have the health benefits of spinach, but don't want to prepare it, or you're worried about giving them too much, look for a dog food that contains spinach in its ingredient list.

All varieties of Hungry Bark dry food contain spinach as well as other superfood ingredients like dried cranberries, blueberries, and flaxseed. All recipes were designed to help your pup get the nutrition they need at all life stages. Hungry Bark recipes are all veterinarian approved, so you know Hungry Bark has your dog's health in mind. Best of all, their ingredients can all be traced directly to the source, so safety is never an issue. All of the ingredients, including whole meat, are slow-cooked together to help maintain their nutritional profile.
If you are unsure about adding certain vegetables to your dog's food, consult your veterinarian, and they will put you on the right track. Vegetables can have amazing health benefits for dogs, so don't be afraid to offer them things that you know are safe. Next time you have a spinach salad, don't feel bad about offering your dog a leaf. The vitamins and antioxidants will all help your dog live his best life.
---
---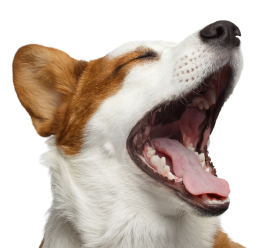 Digging for more help?
Let's get in touch.