By Hungry Bark | July 20, 2020
Once upon a time, dog foods didn't vary much. Standard flavors were beef, chicken, and oftentimes, much less descript flavors like "tender meat blends". We've come a long way since those restrictive days and can now find exciting flavors like lamb, turkey, duck, and even flavors once regulated to cats, like salmon. Salmon's popularity with dogs and dog parents has exploded in recent years, but is salmon really good for dogs?
Salmon is a wonderful source of protein and omega 3 fatty acids, both of which make it a perfect dog food superfood ingredient.
As with many fish, salmon also raises the question of mercury content. Salmon is a big fish, which means it eats a lot of smaller fish, which in turn have also eaten a lot of even smaller fish. This creates a long food chain. The concern is that fish at the higher end of the food chain have a higher chance of accumulating mercury in their systems and then passing that mercury on to the next animal on the chain - us or our pets.
The concern is a valid one, but one that researchers have found to be unwarranted. A recent study examined salmon pet foods and tested them for their mercury content. After analyzing the results, researchers do not "support avoiding fish- or salmon-based diets."
While we've established that salmon is safe for our dogs, it's important to understand whether it provides our dogs the same health benefits that it does for humans.
Salmon is loaded in protein and omega-3 fatty acids. Both of these nutrients are amazing for dogs. Dogs need protein to both grow and rebuild muscle, remain active, and to serve as fuel. After all, salmon packs a whopping 21 grams of protein for every 3 oz serving!
Omega-3 fatty acids are great for a dog's immune system. They can help to support brain development and function, helping dogs develop a sharper mind. Omega-3 fatty acids are also great for supporting heart, liver, and kidney function.
When choosing a salmon pet food, be sure to pay attention to the ingredients and nutritional content in each food. Not all pet foods are created equal.
Hungry Bark offers several products that feature salmon and its unique health benefits. The Grain-Free Superfoods with Salmon Kibble is the perfect way to add the benefits of salmon to your dog's bowl every single day. But you may also want to check out Hungry Bark's Salmon Protein Mix-Ins as a way to boost both your dog's omega-3 fatty acid intake and their meal's flavor! For those looking for an extra superfood push, the Happy Heart Supplement supports your dog's heart, skin, and coat for optimal wellness, performance, and a stunning glow!
---
---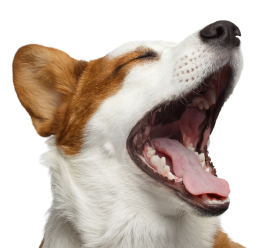 Digging for more help?
Let's get in touch.