Can Dogs Eat Blueberries?
By Hungry Bark | June 18, 2020
Blueberries are a super fruit with a number of amazing health benefits. The antioxidant properties, free-radical-fighting phytochemicals, and delicious taste have made them a popular treat. While your dog has probably followed you around hoping you might drop a few, have you ever wondered if blueberries are safe for dogs?
The answer is yes! It is safe for dogs to eat moderate amounts of blueberries. Many pet owners looking for a healthy alternative to traditional treats or bones and chews, or are trying to find a high fiber fruit to add to their dog's food, use these delicious, blue morsels.
But first, it's important to remember that many fruits and vegetables are toxic to dogs, so it is always a good idea to verify the safety of a new food before offering it.
How Blueberries Benefit Dogs
The antioxidants in blueberries are just as beneficial to dogs as they are to people. Studies show that these antioxidants reduce the effects of aging on the brain, which makes them great for older dogs. They are high in Vitamin C, and their low-calorie content makes them the perfect snack for dogs on a diet. Blueberries also contain vitamins A and K along with calcium, phosphorus, magnesium, and potassium, which are all important nutrients for bone and organ health.
How Many Blueberries To Feed A Dog
Make sure to not give too many blueberries, as it can cause gastrointestinal upset. Rule of thumb, feed a few blueberries per 10 pounds of body weight. They don't need to be cut up since they are so small, but only give them to small dogs if you will be staying in the room to supervise them. Or, you can mash them up to eliminate the choking hazard. The size of blueberries can be a choking hazard for some dogs.
Tips For Feeding Blueberries To Your Dog
Before you feed your dog blueberries, here are a few helpful tips.
Introduce blueberries to your dog slowly so you do not upset their stomach.
Rinse them thoroughly before you feed them to your dog to remove any pesticide residue.
Pick through and make sure you discard any questionable berries. You don't want to inadvertently feed moldy berries to your dog.
You can give your dog fresh blueberries, or freeze them as a refreshing treat for a hot day.
Dried blueberries are easy to transport and make an easy training treat.
Mix blueberries with all natural peanut butter (without sugar or sugar alternatives) and place them in a Kong to keep your dog busy.
You can mix blueberries with your dog's kibble. Stir in whole berries, or puree them first.
Blueberry Dog Treat Recipes
Frozen Blueberry & Yogurt Snack
You will need:
Organic blueberries

Greek yogurt, make sure it has no sugar or artificial sweeteners

You can also substitute virgin coconut oil for the yogurt
Mix the blueberries with the oil or yogurt.
Place your mixture in an ice cube tray, and freeze until firm.
Now you have a lip-smacking treat your dog will love! If you make the yogurt version, you can even enjoy some too! Give this recipe an extra kick by throwing in strawberries, raspberries, or blackberries, all fruits that are safe and healthy for your dog.
These tasty treats are a little more complicated, but if you have a special occasion you want to celebrate with your dog, or if you are trying to switch to healthier alternatives, these are worth a try. (Recipe credit: brucebradley.com)
You will need:
6 cups of oats, rolled or quick

1 cup of fresh or frozen organic blueberries

2 large eggs

½ cup of applesauce (no sugar added and no artificial sweeteners)

6 tablespoons of all natural peanut butter (no sugar or alternative sugars)
Preheat your oven to 350 degrees, and grease your cookie sheets.
Add ingredients to the blender or food processor starting with rolled oats. Pulse the oats for about 20 seconds, then add the rest of the ingredients.
Roll dough into small logs, then break or slice off and roll into balls. Place on a cookie sheet.
Bake in the oven for about 25-30 minutes or until treats are brown around the edges.
Store in an airtight container to preserve freshness. They should last several months.
Dog Food With Blueberries
If you are concerned about your dog being able to safely eat raw blueberries or you are not able to find them certain times of the year, then purchasing a dog food that already has blueberries as an ingredient is a great choice. And plus, the food will have all the vitamins and benefits of blueberries, without leaving purple stains on your kitchen floor!
All Hungry Bark premium kibble recipes contain blueberries, as well as other superfood ingredients like pumpkin, spinach, ginger, and turmeric. Hungry Bark recipes are designed to be both nutrient-dense and pleasing to your dog's palate.
All ingredients, from the meat used to the blueberries picked, are ethically sourced and can easily be traced right back to their origins. Hungry Bark foods are prepared in a kitchen, where they are slow-cooked to preserve the nutrient profiles of every ingredient. They are not subjected to extreme pressure or prepared in a factory. That way, your dog will still be getting antioxidant benefits and vitamins from the blueberries and other superfood ingredients.

To learn more about dog food ingredients visit https://hungrybark.com/pages/ingredients.
Blueberries are filled with antioxidants, a great superfood that humans and our fur kids can consume.
Debbie Brookham: Clinical Pet Nutritionist C.P.N.
---
---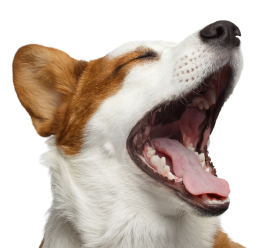 Digging for more help?
Let's get in touch.