We're a team of dog loving paw-rents who spend the best hours of our day figuring out the most effective ways to help enhance dog's lives and overall well being.
Daunting task you say? Not for us. We find it exhilarating to help push an entire industry forward.
Truth is, there is nothing more telling of overall well being than diet and nutrition. The food we choose to feed our dogs is their primary source of nutrition, vitamins, minerals and as such, can either help support their overall health or could be the primary reason for sickness and/or decreasing health.
Our initial understanding of the deficit of nutritious dog food on the market began when our CEO, Nick Molina, was searching for wholesome dog food to feed his new rescued puppy, Barkley. His options were disappointing. He realized that while human nutrition had made huge advances, pet food was left far behind.
Since then, we have brought together a team of dog-loving hoomans and invested in deeply researching the dog food industry, collaborated with teams of nutrition experts and veterinarians, compliance and regulation bodies, and pet parents themselves to dissect the information we gathered as well as the requirements for optimal pet nutrition. A key learning is that the information available regarding ingredients and pet nutrition is minimal and contradicting. Not only is it confusing, but sadly, it's been purposefully constructed that way.
Until now. Anything that is confusing and deceiving is unacceptable to us. So, we created Hungry Bark to unpack all nonsense and create a fresh new start. We are a company dedicated to creating a better life for dogs & their humans. First through transparent ingredients and purposeful nutrition education, and secondly, to support pets in need.
To attract the right team members & talent, and to ensure we build the best community possible, we developed our Core Values to act as a guiding light behind everyone we hire and everything we do:
Love dogs & give back to dogs in need

Obsess over our community & customers

Give a poop 💩 and do something about it

Bring swagger without ego, be bold but not reckless

Be authentic in everything you do

Be reliable

Think like an owner

Champion change, embrace challenge (cha-cha!)

Create joy & have fun
With the help of our incredible team, industry experts, vendors, friends and family, we have created what we believe is a necessary shift and upgrade in the dog food industry. Customized super premium meal plans, supplements and mix-ins packed with nutrient-dense superfood ingredients, delivered directly to your door.
Not only does Hungry Bark offer enhanced dog food recipes and ingredients, but the company provides a proprietary Custom Meal Plan for consumers to receive recommendations on what to feed, how much to feed, how to feed and why to feed certain things based on a dog's age, breed, weight, sensitivities or allergies, activity level and more. Hungry Bark determines how much your dog needs for a week and allows customers to build their own subscription plans (between one and eight weeks) or customers can purchase products on their own terms without a subscription, either option offers free shipping, hassle-free returns and a 100 percent satisfaction guarantee. Subscription holders receive discounted pricing on purchases with 20 percent off the first order and 10 percent off orders thereafter.
We hope you'll give it a try and join us in supporting pets through advanced nutrition and giving back. Because dogs deserve better.  
If you have a favorite rescue, therapy animal program, or other worthy charity we should know about, contact us! We're always interested in new ways to support pets in need.
---
---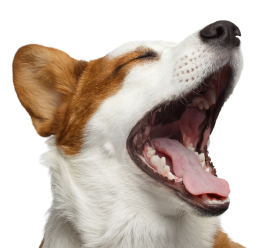 Digging for more help?
Let's get in touch.