No Tricks All Treats
Halloween Edition
By Hungry Bark | October 22, 2020
Halloween is almost here signaling the beginning of the holiday season. With all the food and treats around, your canine companion is probably following you hoping you might drop something tasty.
We all know feeding our dogs from the table is a bad idea. It encourages begging and can contribute to unnecessary weight gain. It can even lead to complications like pancreatitis if they are eating a steady stream of the fatty, sugary treats available this time of year.

If you're looking for a healthy treat for your dog, why not give them something that also has health benefits?
Healthy Halloween Treats for Dogs
In the spirit of the Halloween season, why not make your dog something special so they can celebrate with the family? Treats made with pumpkin aren't just festive; pumpkin is full of fiber and Vitamin A, along with other essential nutrients.
Healthy Pumpkin Dog Treats
Ingredients:
1/2 cup of pureed pumpkin (canned or fresh)

2 tablespoons of coconut oil, softened

4 tablespoons of water, plus more if needed

2 cups of whole wheat flour

1 teaspoon of cinnamon

1/4 teaspoon baking soda

1/4 teaspoon of baking powder

1 egg
Steps:
Preheat the oven to 350 degrees. Mix the pumpkin and coconut oil in a large bowl.

Add your dry ingredients, flour, cinnamon, and baking powder mix until incorporated and add egg. Mix well.

Roll on waxed or parchment paper until the dough is ¼ inch thick

Use a cup or a fun cookie cutter to cut dough into shapes

Bake for around 30 minutes.
Source: https://foodwithfeeling.com/healthy-pumpkin-dog-treats/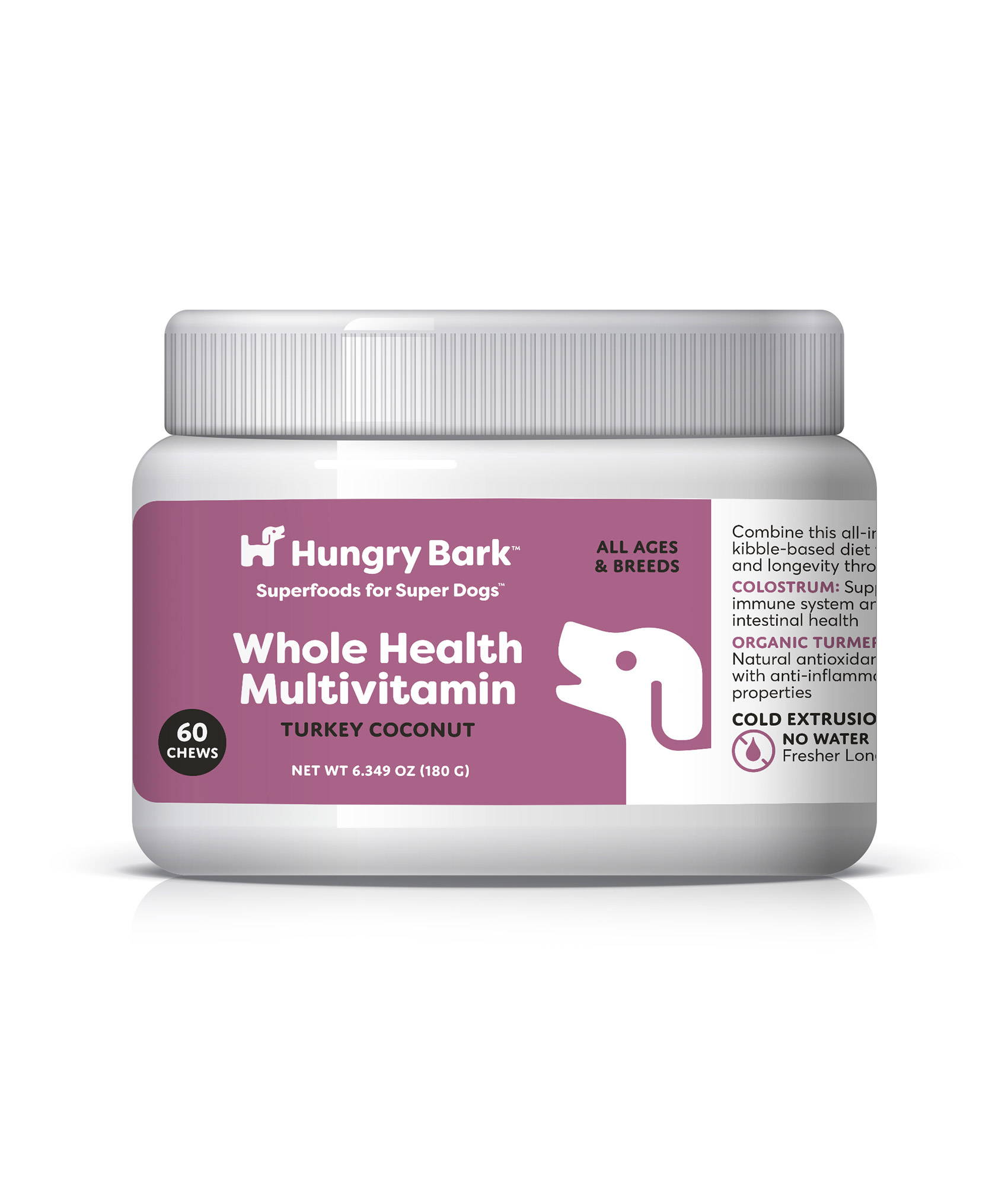 Whole Health Multivitamin Supplement Chew
Developed by pet nutritionists
Supplement Chews Make Great Treats
If you are looking for something that's more than a treat, maybe something that also addresses your dog's health and wellness concerns, you may want to think about adding a supplement to your dog's diet.
Hungry Bark has an assortment of delicious supplement chews designed to provide your dog with the health benefits they need, while also tasting so good your dog will think it's a treat. There are several varieties, each designed to meet a specific health concern.

Whole Health Multivitamin- A supplement full of the vitamins dogs need to stay healthy and active. A multivitamin is the easiest way to ensure our dog is getting all of the vitamins and minerals they need. This powerful chew boasts some amazing, beneficial ingredients like turmeric, collagen, and vitamins A, B, and D.
What Makes A Good Supplement Chew?
We're all tired of hearing claims that certain things are miracle products that will magically change our lives. So let's be real, Hungry Bark Supplement Chews aren't magic, but they are backed by science.
There are no tricks here! Good health starts with good nutrition, and Hungry Bark supplements are made with that in mind. They are loaded with ingredients that have been shown to provide health benefits, like glucosamine for joint support. They also boast superfood ingredients, which makes them tasty and a good source of nutritious, whole food ingredients!
Now we know; good health starts in the kitchen. Making sure your dog's needs are met nutritionally will result in better health, so you and your dog can enjoy many more Halloweens together.
---
---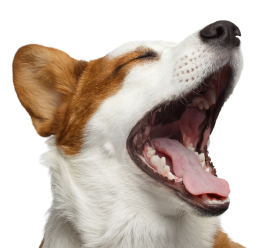 Digging for more help?
Let's get in touch.